Onomichi Factory
(No.1 and No.2 factories)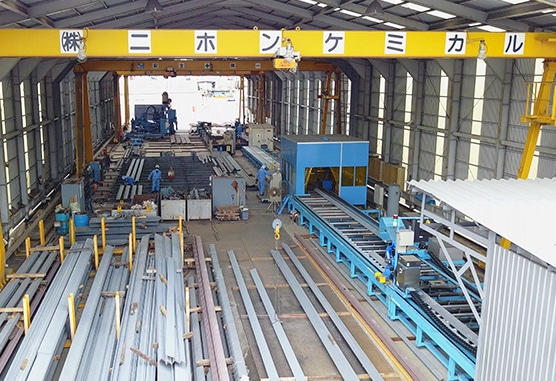 111 Mukaishima-cho, Onomichi, Hiroshima Prefecture, 722-0073, Japan
(Within the site of JFE Shoji Zosen Kako)
MAPClick here for Google Map
TEL+81(0)848-44-7110
FAX+81(0)848-44-7110
ISO9001Certified Factory
The factory specializes in the marking, cutting and bending of shaped steel.
The No. 1 factory mainly produces steel materials for ships. Using flat steel and mold steel6-axis robotic cutting (automatic making & cutting machine), this factory is capable of the highly accurate cutting of steel materials from the marking stage. Bending is performed by a combination of craftsmen and a frame-bending machine. Horizontal bending is conducted using a frame-bending machine while vertical curving is conducted manually. 3D skew curving is also possible.
In the No. 2 factory, flat steel and mold steel 6-axis robotic cutting (automatic making and cutting) is conducted as is done in the No.1 factory. The products from this factory are used for ships.To meet requests of shipbuilding customers as well as the bridge construction and transportation equipment industries, our experienced craftsmen will carefully handle steel materials to be cut into complicated shapes and conduct beveling using gas cutting machines.
The factory is located within the site of JFE Shoji Zosen Kako (previously Hitachi Zosen Corporation's West Factory).
No. 1 factory
Land area
1,304 ㎡
Building area
1,304 ㎡
Cargo handling equipment
Gantry crane: 2.8t / 4 cranes
Equipment
Flat steel and mold steel 6-axis robot cutting system
Cutting and bending of section steel: 1 set
Steel curving machine: 1 set
Product
L、FB、BPL
Production capacity
500t/month
Capacity of bender
600t stamping machine
T-type: 800 x 200 (size)
L-type: 550 x 150 (size)
No.2 factory
Land area
900 ㎡
Building area
900 ㎡
Cargo handling equipment
Overhead crane: 5t / 1 crane, 4.8t / 1 crane, 2.8t / 2 cranes
Equipment
Flat steel, section steel 6-axis robot cutting system
Small NC cutting machine, saw cutting machine (600 x 300)
Product
L, FB, pipes, square pipes
Production capacity
350t/month